VICTORIA, BC, CANADA (February 26, 2016) Carmanah Technologies' Go Power! division will be displaying their solar liftgate solutions for the commercial work truck market at two shows this March.
Thanks to new laws in some states and provinces, idling to keep your battery charged and your liftgate operating smoothly is no longer an option. When deliveries are large and runs between stops are short, liftgate use can quickly deplete batteries. Avoid expensive dead battery and stuck liftgate service calls by keeping your fleet mobilized with solar liftgate solutions from Go Power!
Go Power! offers several ready-made and custom solar charging solutions to safely and reliably meet the tough demands of the commercial trucking and delivery industry. These are complete systems designed to mount flat on the trailer or service body with minimal height increase. The Solar Flex™ solar panels supplement the power from the truck alternator to keep the liftgate batteries charged and healthy.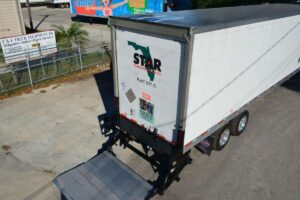 "It's really a financial win for the fleet," Mark Spilsbury, Sales Channel Manager for Go Power!, states. "The Solar Flex™ power system comes at a very competitive price, lowers annual fuel costs, extends battery life, and prevents vehicle downtime," he explains. "Not to mention the positive environmental impact of a greener fleet."
F&F Truck Equipment, a Florida-based truck equipment and service company, has more clients, like Star Transportation, seeking solar solutions to keep batteries charged during deliveries. Mike Stadtmueller, F&F Truck Equipment's Parts and Service Manager, notes "the panels are so easy to install, and are a simple economic solution to a potentially expensive problem. We also have increasing interest from the marine side." He adds, "boaters use Solar Flex™ panels to keep back-up and house batteries charged up."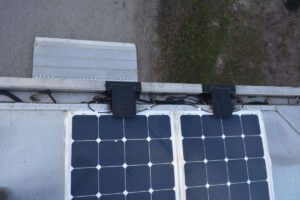 With Go Power!, fleet managers can make informed decisions on efficient installations, safety, and meeting environmental criteria. We provide all the components necessary to do the job right.
For an exclusive look, visit the Go Power! booth 1924 at TMC's Annual Meeting in Nashville, February 29 to March 3, and booth 5590 at the NTEA's Work Truck Show 2016 in Indianapolis, March 1 to 4. Be sure to also ask us about our NEW industrial strength inverters.
Low profile Go Power! Solar Flex™ installed. Photos courtesy of F&F Truck Equipment, Florida.
Product Contact:
Mark Spilsbury
Sales Channel Manager, Go Power!
Media Contact:
Andrea Corno
Senior Marketing Specialist, Carmanah Technologies