VICTORIA, BC, CANADA (March 1, 2016) Go Power!, a division of Carmanah Technologies (CMH), today unveiled their new economically priced inverter charger, the GP-IC-2000. This long awaited 2000 watt pure sine wave unit was created in collaboration with a number of OEMs and includes all the key features expected by fleet customers.
"We were careful not to rush into this product category until we felt confident we had achieved our goal of blending form and function with a key price-point that would be attractive to all," stated Mike Stephens, Go Power!'s Division Manager. "This is a much-anticipated addition to our comprehensive product line."
Dealers and installers will appreciate many of the features incorporated into the GP-IC-2000.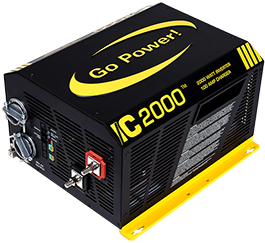 For example, this 3-in-1 system combining an inverter, battery charger, and automatic transfer switch saves space and simplifies installation by reducing the number of devices and cables to install.
While most inverter chargers offer a 30 amp transfer switch, the IC2000 provides two 50 amp legs. That means when connected to shore power 50 amp service (240V), it can draw up to 12,000 watts of power. It is also compatible with 30 amp service.
Technicians will appreciate the unit's reduced weight, easy carrying handles, and accessible wiring compartment. Conveniently, the footprint matches a number of common legacy brands; making replacement installations a snap.
The GP-IC-2000 opens a new chapter to the Go Power! solution offering and is the perfect complement to their popular line of solar kits and systems, pure and modified sine wave inverters, AGM batteries, and harnessing.
For an exclusive look at the GP-IC-2000, visit the Go Power! booth xx at the 2016 NTEA Work Truck Show, March 1-4.
Media Contact
Eva Mitic
Go Power!
Marketing Manager
[email protected]