Flat has never been so powerful.
Go Power! by Carmanah will introduce a new line of flexible, flat and highly efficient solar panels and kits to the RV, marine and long-haul truck market in early 2014.  Unlike other 'thin' solar panels currently on the market, Solar Flex modules are created with the same powerful monocrystalline solar cells as the company's popular Large Solar Kits.  The flexible, marine-grade material provides a solution for anyone with a curved surface, requiring an adhesive mounting option, extremely low profile (approx. 3mm thick) or a walkable / durable solar surface. Read more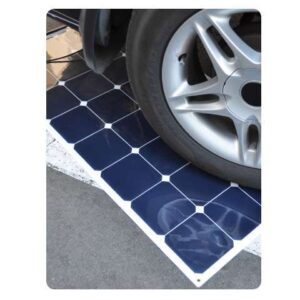 The Go Power! team will showcase these impressive solar chargers to hundreds of RV dealers at the Stag-Parkway show (Booth 1121), Jan. 13-15th in Puerto Rico, followed by the Canadian premiere at RVDA's Edmonton and Calgary exhibitions and the Earlybird RV show in Abbotsford, BC. The Solar Flex series will be presented to work truck and long-haul truck professionals at the National Truck Equiptment Assoc. (NTEA) show March 5-7th and the Mid-America Trucking Show March 27-29th.
Please contact us for more information.